Architecture Student from Gilgit-Baltistan Receives the Mehdi Ali Mirza Award from IAP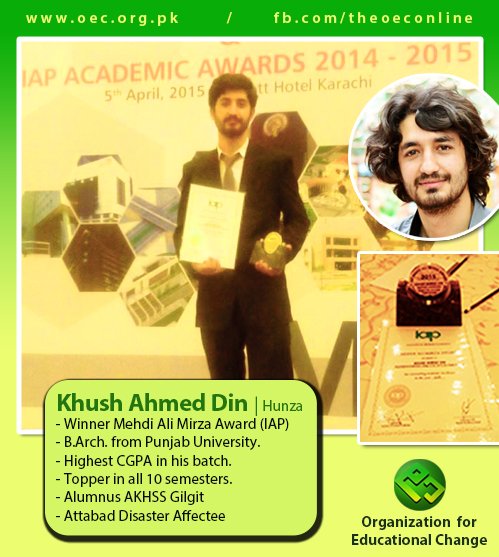 Khush Ahmad Din, an architecture students from the Hunza valley in Gilgit-Baltistan, has received the Mehdi Ali Mirza Award from Institute of Architects Pakistan (IAP) for his outstanding academic performance.
Khush Ahmad is a graduate of B.Arch from Punjab University and holds the distinction of scoring highest CGPA in his batch as well as standing the top scorer during 10 consecutive semesters.
He shared his thoughts with Humans of Hunza upon receiving the award:
"I can't express my feeling on how happy I am to receive this award. It's a big moment for me to be one of the few awardees across Pakistan. I have seen tough times due to the Attabad disaster and this would have never been possible without the support of my family, my mom. I would like to dedicate the award to every single mother who is working day and night to raise her children and to pay their educational expenditures; in the hope that one day her child will one day stand out and lead the world. I would like to give my message to the students of Gilgit-Baltistan that never give up no matter how hard the time is. Ultimately, the end of hard time will start a happy new beginning and you will forget all the hardships you have faced".
The Mehdi Ali Mirza Awards (MAMA) were instituted almost three decades ago in the memory of IAP Founding Member and first president, Ar. Mehdi Ali Mirza.
The OEC Team congratulates Khush Ahmad on his outstanding performance! You have made the whole Gilgit-Baltistan proud.