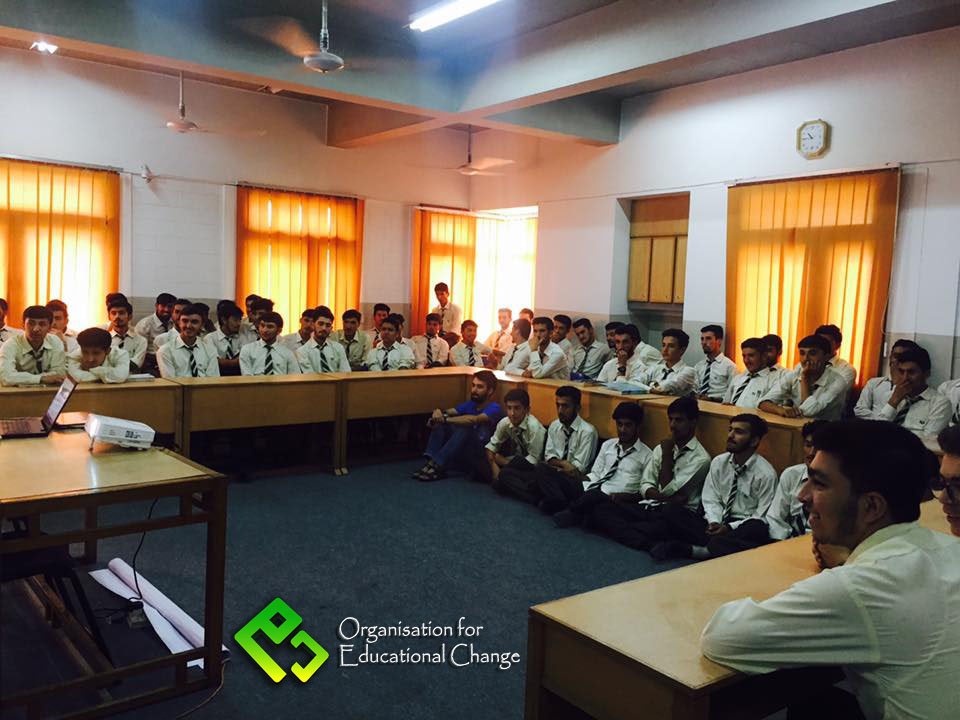 The largest student NGO of Gilgit-Baltistan reached another milestone by conducting more than 18 expos across the districts of Gilgit-Baltistan. Despite the contemporary challenges, OEC has remained committed to its mission of transforming and educating communities through the power of education as an agent of change.
The Education Expo is one of the important projects of OEC.  Expos are interactive sessions that engage students in career thoughts, choosing majors and way forwards as university aspirants. The expo team consists of brilliants university students who hold academic distinctions and own excellence in extra-curricular activities. Educational Expo events are being held across the region and every year new target areas with dire needs of counseling are defined.
Gohar Ali Khan "Team Lead Expo" for tenure 2017 had a challenge on his shoulders to match the earlier work done by his predecessors. Having been a new executive team under the leadership of Mr. Kamal Uddin. The Expo team did show a remarkable performance through their commitment and sincere efforts by conducting 18 educational expos in Ghizer, Yasin, Gojal, and Gilgit. This year motivational talks were included to make the student understand the contemporary world and its requests. The reactions received after these Expo's prove the genuine thirst of youngsters towards education and knowledge.
All these 18 Expos were engineered in an organized plan. The Target areas were well articulated for the maximum participation of high school and college students in the Educational expos. The expos at each venue were formally commenced with the introduction of OEC and its aims and vision. OEC's reason to conduct this expo was made known to the participants. The Expo Sessions stayed in three phases:
Multimedia presentations of different career options
One-to-one career counseling of the participants
Personality self-assessment using The Big 5 Psychological Test
Participants were briefed on career options through multimedia presentations. The content of presentations not only included introduction and motivation for pursuing a career field but also on available scholarships and the universities offering them. Following career options were presented to the students by different speakers of the expo team:
Medical
Engineering
Natural and Pure Sciences
Arts and Architecture
Social Sciences
Business and Management
Computer Science and Information Technology
Apart from presentations, different ice-breaking activities were performed in between the presentations to energize and rejuvenate the attention of the participants. Also, certificates were distributed among the winners of the activities. In the second phase of Expos, participants were given a questionnaire from the Big 5 Psychological Test, using which the participants self-assessed their personality using the instructions given on the questionnaire. This test would not only help them to know themselves introspectively but also enlighten them in areas where they need attention.  Lastly, in the third phase of individual counseling, Expos students were encouraged to go to speakers most relevant to their concerns, so that they may get the most relevant guidance and advice
All of those sessions were covering different activities like: Self-Discovery, Confidence Building Measures (CBMs), Career Info Hour, Individual Counseling Session. The great participation of students showed enthusiasm towards education and that is what team OEC aims to see in. Collectively, more than 1500 students had attended different expos at different venues.
Educational Expos were conducted on the Following Venues:
 Federal Govt boys High School, Nasirabad Hunza.
Community hall (Gulmit Gojal)
Community hall, (Shiskat,Gojal)
AKHSS Expo.
Elysian School
AKHSS,Sherqilla
LRS Chatorkhand, Ishkomen
Quaid-e-Azam Public School, Gahkuch
Aga Khan Higher Secondary School, Gahkuch
DJ High School, Gupis
Govt. High School Jandrote
Army Public School, Hundur, Yasin
CAIG Community School, Umalset, Yasin
DJ School, Darkut.
Community School,Omulsut.
Hashoo Foundation, Gilgit.
GCCE College, Gilgit.
Ceena Health, Gilgit.
Sedna School Jutial, Gilgit.
Team of OEC Educational Expo 2017
[/title][fusion_text]Summers are fun for university students while for OEC volunteers it's a platform to serve their communities and payback the skills that they learned. OEC appreciates following members for their efforts in making these Expos very successful.
Kamal Ud Din – FAST Islamabad
Gohar Ali Khan- IM-Sciences Peshawar
Syed Fakhar Uddin – KIU Gilgit
Syed Ehsan Ali – LUMS Lahore
Siraj Hussain Nasri- NCA Lahore
Anam Karim – NCA Lahore
Zohra Khatoon – NDU Islamabad
Salim Akhter – UET Lahore
Wajid Ali Shah- UET Khuzdar
Daneal Karim- LUMS Lahore
Shugufta Ali- NUST Islamabad
Mohsin Amir – COMSATS Abbotabad
Iqbal Kakakhel- COMSATS Abbotabad
Faheem Muzaffar- Islamic University Islamabad
Shakila Shukoor – Quaid-e-Azam University
Zulfiqar Essa – COMSATS Islamabad
Khuda Burdi – UWC Scholar
Aezaz Ali- YES scholar
Shoaib Sultan Khan – KIU Gilgit
Shazmina Beg- NCA Rwp
Sarosh Sultan –Bahria University Islamabad
Rida Beg – COMSATS Islamabad
Husnain Saleem – UoL Lahore
Faiza Ali –KIU Gilgit
Raja Irfan –KIU Gilgit
Amjad Ali- NCA Lahore
OEC acknowledges the support and appreciation of the entities who made these educational Expos possible by providing resources and funds.
To begin with, OEC pays gratitude to the Ministry of Youth affairs Gilgit-Baltistan for providing resources in the form of transport and lodging for the Ghizer Expos.
We are thankful to AKRSP for supporting by providing transportation facilitates for the Hunza-Gojal Expos.
In the end, OEC recognizes contributions of the following enterprises for their support in making the journey easier for the team Expo.
Sujo Water Company
Lividle Water Company
YARAN cooperation
National Bakers
Calibreon
Appeal: Under Investing in Future Leaders Scholarship project, OEC is sponsoring meritorious and deserving scholars-studying in elementary schools- from far-flung areas of Gilgit-Baltistan &  Chitral, therefore, you're kindly requested to sponsor an OEC-IFL Scholar by an email at ifl@oec.org.pk
Moments from OEC Educational Expo 2107